Anastasia Evstegneeva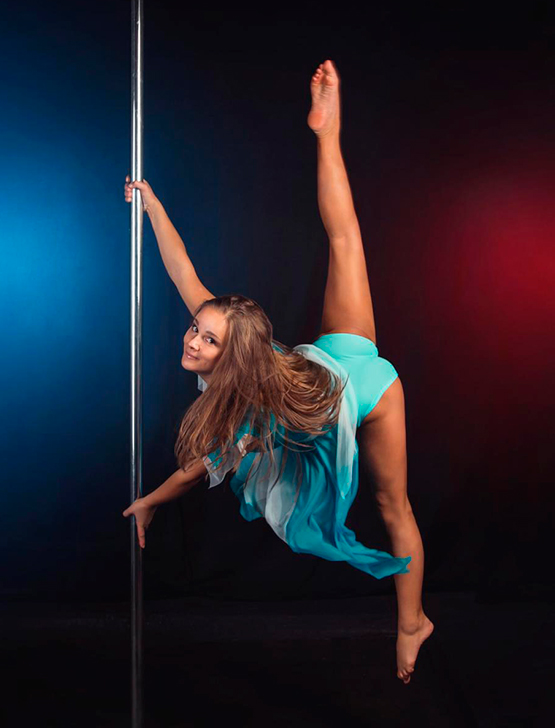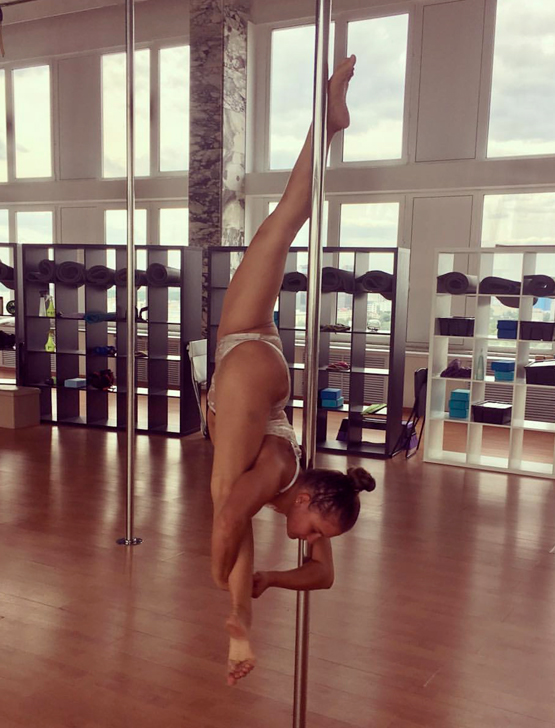 Nastya is an inspiring example of how people without sport background become pole dance champions. In January 2013 it was first time when she came to the class. And in November she performed at the competitions on aerial acrobatics and won her first prize: gold in the category pole acrobatic professionals.
As for the style Nastya started with pole acrobatic/pole sport and strict academism that is required for competition participants. Then she moved to pole artistic: her performances obtained image and story, the execution was marked by choreography and artistry. In 2017 she surprised everyone by debut in pole exotic and first place in championship Zodiac.

Along with a pole Nastya was practicing other disciplines of aerial gymnastics (hoop, silks, loop, straps) and won several competitions in the category aerial hoop. Just for 5 years Nastya have taken part in 21 competitions and was a prize-winner in 15 of them.
Achievements:
Goddess Power Championship 2018 (Hong-Kong) – special prize Best Performer
Exotic Show Moscow 2018 – 1 place
Iproject Pole Dance Champ 2018 – 2 place Stars
Pole Art Greece 2017 – 1 place Elite Women
Pole Star Samara 2017 – 1 place Elite Show
Zodiac 2017 Black Edition – 1 place Stars
Pole Art Cyprus 2016 – 1 place Professional Women
Pole Dance Show Russia 2016 – 1 place
Open Russian Championship. III Russian and CIS countries championship on aerial gymnastics 2015 – 1 place Pole Artistic professionals
CatWalk Dance Fest 2015 – 3 place: Pole Artistic professionals, aerial hoop professionals
VII Russian and CIS countries Cup on Aerial Gymnastics 2015 – 2 place Aerial hoop doubles completeness 1; 3 place aerial belts
CatWalk Dance Fest 2014 – 2 place Aerial hoop solo professionals; 3 place Pole Sport professionals
International Russian and CIS countries Championship on Aerial Gymnastics 2014 – 1 place: Aerial hoop, solo professionals, Aerial hoop doubles completeness 1; 2 place Pole Acrobatic professionals
International concurs «You are legend» 2014 – 2 place in nominations Modern Dance, doubles
Open Russian and CIS countries Cup on aerial gymnastics 2013 – 1 place Pole Acrobatic professionals
Participation in competitions:
Paranoia Pole Dance Showcase 2016, 2017, 2018 (finalist), POSA Pole Art World Championship 2017 (5 place), Pole Art Cyprus 2015 (finalist), Open Russian and CIS countries Cup on aerial gymnastics 2014 (prize-winner of the categories Pole acrobatic professionals, aerial hoop professionals, aerial loop)
Video:
Paranoia 2016
Pole Art Cyprus 2016
Pole dance clip from Anastasia Evstegneeva